Buy at: Amazon Mp3 and Physical CDs - iTunes - GooglePlay
Also on Spotify, Rhapsody, XBox, Mog, Jango, and most streaming apps.
Email Pandora that you want to hear it on Pandora. We greatly appreciate song and album purchases and please tell your friends or share the PumpYouUp.com link on your facebook, blogs, forum entries and websites. The content will always be fresh.
What is PumpYouUp? A new web site promoting indie free music that makes you move. Electronica, Trance, Dubstep, Techno, House. Free music a click away to get you on your feet. Great for doing chores like washing the car, mowing the lawn, exercising, and studying. It's way better than a $4 shot of coffee or energy drink, guaranteed.
PumpYouUp makes it extremely simple to find and download new music. No boring or too-crazy music allowed. We strive to share free tracks that are hand picked and show creativity. No wasting time. No weird links. No illegal music downloads. We concentrate on real music, by artists who know how to write, orchestrate, and play notes, no remixes.
We're just starting out so we're producing tracks in-house to get the ball rolling. Tell us what you think. Friend us on facebook, bookmark this site, watch us grow.
If you're a music producer of quality art that makes people move, send us a link to your work. We prefer 3-4 minute songs, harder styles, very rhythmic, young Skrillex, DeadMau5, Tiesto, SubFocus prodigies.
Contact
Telephone:

Robert: 817 431 8470

E-mail: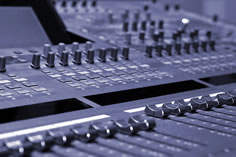 As Steve Jobs said, "be un-realistic". That's me, 1M, 2M, 8M+ humans will know PumpYouUp in a matter of years. Question is; do you want to join us in this crazy un-realistic journey? It will be fun trying.
PumpYouUp.com was started to help promote talent, creativity, and make people happy. The idea is to save the listener time in finding music that stands apart and providing a simple legal download link. But also to find artists who want and worthy-of free marketing and a much larger audience. I've written electronica off and on over the last 20 years as a hobby. I even have a few from 1987 like "Triumphant Feelings". But this is not about me, its about finding what our world has to offer. Please visit often as we'll have 6 hand picked collections per year from various talent guaranteed to please. If it makes you move, if it makes you want to grab your headphones, if it's quality art that's not boring, you'll find it on PumpYouUp.com